Social distancing has become the new normal and while we all navigate this new normal we caught up with some South Floridians to hear how they are keeping busy while social distancing.
Meet Paola and Alex, a young couple quarantining with their two young kiddos. Paola is a local business owner, but due to social distancing has been staying at home helping the kids with their schoolwork and thinking how to keep business moving despite being closed. Alex is thankfully still working, but of course from home. So the question is, how are they keeping busy and not going stir crazy?
Sticking to a Schedule
First and foremost, Paola and Alex were very adamant about keeping their regular schedule during this time of social distancing. When they wake up in the morning they are still getting themselves and the kiddos ready for the day, but to fill in the gaps of more time they now have (i.e. what would originally be reserved for a drive to school), they are now enjoying family breakfasts.
"We are taking this time to spend it together. Before social distancing we never had the opportunity to just sit and enjoy each other's company because life is constantly moving. We are taking this time to do the simple things together that we just haven't before."- Paola & Alex
Creating a Budget
Paola shared her worries as a local business owner and not having a steady income right now. She shared that of course her mind is focused on the "now" but what about when things go back to normal? Her and Alex have a savings to help them now, but if that runs out it's going to be time to really tighten up monthly spending.
She shared that she has been using the Get Beyond Money Budget Planner to help her visualize their spending to see what are some things they can hold off on moving forward and what expenses are most necessary to help their family stay afloat during this time.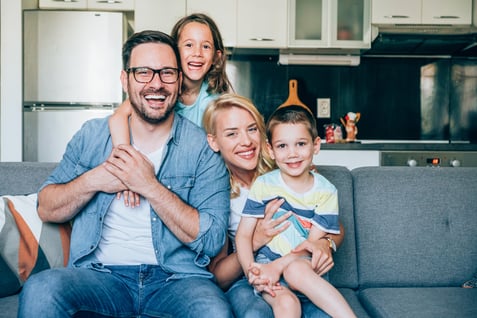 Staying Active
Social distancing has kept a lot of families at home and in front of the TV, but there's only so much you can watch until you start to feel lazy, right? Paola and Alex took a small portion of the money they were spending on a gym membership to purchase a few things they can use around the house to keep active.
Alex shared that the at-home weights and exercise bands only cost a third of his monthly gym membership. With the extra money they have put that aside so they can use it to make their monthly car payments for now, so they don't have to defer during this time.
Learning Something New
Together, this young couple have been helping their kids with schoolwork while they adapt to the home-school life and they were pleased to share that they are learning new things. As a family they have been trying to mock the classroom environment with newly purchased school supplies as well as a handy laptop which has helped them all. They've been using the guides provided by the teachers and have all learned how to effectively do their times tables.
Paola and Alex joked that they thought they knew how to do simple math, but apparently there's a new way to do simple math that none of the family knew, but they all got through it in one piece, together.
Tip: If you have to purchase school supplies for kids while they are doing school from home, check out how Paola and Alex were able to earn 3x the points, which means more money in their pockets.
Planting an At-Home Garden
In an effort to save money and have easy access to fresh produce, Paola and Alex decided to buy some seeds and plant an at-home garden. They were able to order some seeds and potting soil online and opted for some plants that are easy to maintain as well as useful for their small family. Some seeds they decided to buy were tomatoes, basil, cilantro, and peppers.
Social distancing is the new normal and yes, it's going to be something we all have to navigate, but what is true of Paola and Alex's story is that as a family they can do it together. If you find yourself going a little stir crazy while social distancing remember these tips to keep busy at home.