Ethan Wall is a Social Media Lawyer who started the first Social Media Law Firm in Miami, Florida, and the world. Two years ago, he donated everything he personally owned, packed up his jeep, and started traveling the world, all while running his law firm remotely.

"I am experiencing new places of the world 30 days at a time." – Ethan Wall, Social Media Attorney, and Digital Nomad.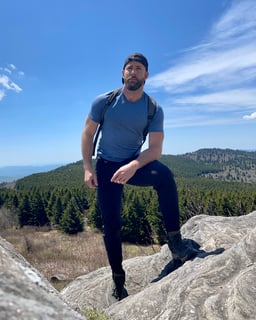 The New Status Symbol
Freedom. This is the new status symbol. Having the freedom to do what you want, when you want to do it. Time freedom, location freedom, and financial freedom. Some, like Wall, can live it, but how does one go about achieving it? Wall shares his story on our Get Beyond Money podcast titled "The Ultimate Status Flex-Freedom with Ethan Wall."



Getting to that ultimate boss status depends on how you see and measure success. For some, like Wall, the ultimate boss status is working remotely, traveling, and seeing new places every month. Wall has two things going for him. He runs his own business based out of South Florida and has decided to fully work remotely.
Stats on Remote Work
Findstack reports that the number of people working from home has risen by 159% since 2009. The pandemic helped increase the numbers, with over half of the total U.S. workforce now working virtually. Since the pandemic, more companies are allowing their employees to fully work from home. Findstack quotes Upwork predictions that by 2028, about 73% of all company departments will have employees working remotely. According to Findstack, 77% of remote workers say they're more productive when working from home. But what about traveling and working remotely?

Wall is living the life of a Digital Nomad, working while traveling. Daniel Schlagwein, who wrote a project titled Digital Work/Digital Nomadism, states that the defined digital nomad movement has been around from as early as 2014/2015. According to Schlagwein, this form of work came with the advancement of technology and the affordability of travel. It can be loosely traced as far back as the 1990s when online platforms boomed.

6 tips to becoming a Digital Nomad – Are you ready?

Are you ready to live the Digital Nomad and ultimate boss status life? Here are 6 tips to help you on your journey to living the dream.

1. Think about it. Before you can leave it all behind to explore the world, you must first think if this lifestyle is truly for you. Can you afford to live on a modest paycheck? Are you disciplined with your money? Wall recalls a time when doing it "big" almost blew his entire budget. You will have to budget, and budget well.

2. Where are you going to go? If you have never traveled before, you may get lost quickly, literally. Do your research. Maybe you could travel locally, throughout your state, or nationally, visiting cities and places you have heard about. Several websites can help you navigate your journey.

3. How will you travel? Will you be driving, taking the train, or flying? If you want to travel and work internationally, you will need to have a passport. Depending on how long you are looking to stay in a new land, you may need a visa.

4. Technology is key. Make sure you have the proper technology to afford this luxury. A reliable laptop and cell phone are essential. Staying where Wi-Fi is easily accessible will help ensure you are always connected.

5. Is being a Digital Nomad truly a reality? If you work for a company and your position is entirely remote, make sure you can work from anywhere. Some companies want you to only work from home while others don't mind you taking your job on the road. The position you hold may have some travel restraints. Make sure to speak with your boss to get buy-in for your new nomad lifestyle. If you work for yourself, you will need to ensure you have enough clients to help maintain your income stream.

6. What about your finances? Speaking about income stream, the best thing is to have a financial institution that offers Visa© or Mastercard© debit and credit cards, digital banking, and a mobile app so that you can access your money from anywhere at any time. Make sure you know where and how to access your money if needed and which ATM locations are in-network. Be careful of ATMs that charge fees and are out of network.

Living your best life and achieving the ultimate boss status is attainable if that is your goal. Do your research, pay down debt and spend less. While on your travel, follow us on Instagram: @TropicalFCU, send us a message, share your story and post pics so we can see how you spend your flextime.