Working from home has brought on a whole new set of expenses. From purchasing office equipment to racking up food delivery bills, it hasn't been as much as a cost saver as some might have thought. This was a challenge for Isaac at first, but as time has evolved he has found a way to turn those work from home expenses into saving opportunities.
Work from Home Expenses
Office Set Up
Isaac has been fortunate enough to be able to work from home, however like many of us wasn't prepared with an office set up at home, so had to invest in one on his own. When he started working from home he didn't anticipate on all the costs it would take to complete his at home set up. Between purchasing a desk, an office chair, monitors, headphones and more it started to add up.
Food Delivery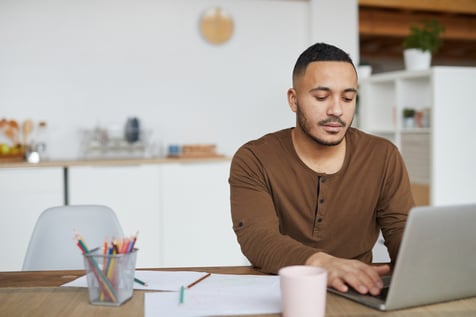 Cooking at home isn't one of Isaac's specialties and on top of that he felt the need to keep helping out local business when he could, so food delivery has been a major part of his day…and not to mention his expenses. When breaking down food expenses here's what he had to say:
"I did the math of what it cost me in added food delivery expenses. Aside from the meal, the delivery cost (tip included) is about $8.00 per meal. I went from ordering food two times a week to now while working from home, ordering in four times a week. That's about $250 a month in just food delivery costs."
Casual Clothing
On top of all his expenses Isaac also invested in more casual clothing to be a bit more comfortable while working all day. As we know, name brand sportswear is not cheap, but that did not stop him at first. He initially bought a few new pieces of clothing, but when he went to purchase more switched it up so that he didn't spend another $200 on just a few shirts and a couple pairs of shorts.
Work from Home Savings
Isaac thought that working from home was going to be an opportunity to save money, but when he realized that he wasn't getting as far as he wanted he looked into seeing how the Get Beyond Money community could help him adjust some things so he could start saving on his work from home expenses.
Earning Reward Points on Big Purchases
Office equipment can be expensive and Isaac quickly learned that. However, to help get a small return on investment using a credit card that offers rewards back on purchases helped. With the rewards earned he was able to get cash back and use it as a statement credit which in turn brought down the amount he owed out of pocket.
Earning Cash Back on Food Delivery
After joining the community Isaac was introduced to the Daily Rewards Debit account, which offers two cents back with every use. Since there's no monthly fee he decided to try it out to earn not only cash back on his food delivery itself, but also combined that with other purchases rewards from local retailers too. Combining these types of offer he has the opportunity to lower that $250 food delivery expense, so that it's not so high.
Tip: Instead of food delivery another option to limit contact and save some time is ordering online and picking up in store.
Budgeting for Extra Expenses
Even while working from home extra expenses such as clothing are on the top of mind. Isaac went from wearing suits every day to wearing shorts and t-shirts. He had workout clothes, but not a lot of casual clothes that were appropriate for video meetings, so investing in a few new options has been something of interest. He used Get Beyond Money's Budget Planner to help him factor in his extra spending so that moving forward he knew how much he could and had to spend on work from home clothes.
Although working from home has brought up new expenses, that doesn't mean being responsible with money has gone out the door. Get Beyond Money has helped Isaac find ways to save on work from home expenses and if you find yourself in the same situation just remember that you can too.